Bruno Michael Emerson
Bruno was acquired on July 1, 2004. Andy decided that he wanted Rusty's help in raising a new dog while Rusty was still young enough to have the energy, so he found Bruno in the Tribune's want ads at Columbia Veterinary Hospital.


Bruno likes the cool tile floor as much as Rusty likes the warm carpeted floor.

We "previewed" Bruno after lunch, then went back to Columbia Veterinary Hospital after work with Rusty in another car. We took them out to Cosmo Park to play together, and they did okay, so we brought Bruno home. (Note: his name wasn't actually decided at that point. He went by "Bubba" for the first year and a half of his life.) Patch didn't seem to notice that we hadn't always had two dogs. Tomás supervised when Bruno inspected the house. Nisa freaked out and stalked the new arrival with arched back and puffed tail. She took a couple of days to accept Bruno as another of her adoring subjects. Lulu was frightened of Bruno at first, but she seems to be accepting him slightly better than Rusty as of this writing (7/5/04). Happy Fourth of July, y'all!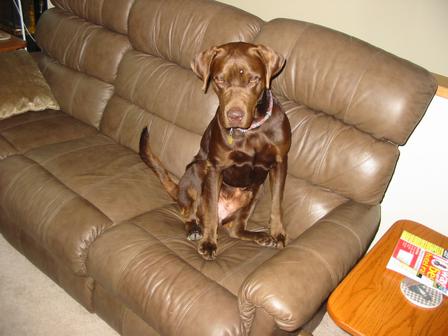 Bruno likes the cool leather couch. Or possibly the notion that he's hard to see when he's on it. Who knows?

Fast forward to another home several years later.

Bruno was having some pain and limping, and we took him to the vet for diagnosis. He was still doing quite a bit of running, so we assumed a knee issue was the problem. Well, it turned out to be bone cancer, and the choices were amputation or euthanasia. Assured that the loss of the leg would get rid of the pain, we opted for amputation, and sure enough, he was right back to his powerful, happy self as he pulled the vet tech out to greet us in the lobby of Clydesdale Hall a few days post-surgery. We didn't run distances over a mile with him any more, but we still took him for the "dog mile" -- out to the end of Bluff Boulevard and back -- a couple of times a week.

Here's his obit from Andy's Facebook page on November 23, 2012:

"Hugh Emerson and I said goodbye to Bruno this morning. He had a good life and ending as well. Put him in the bed the last 2 nights with us. He got extra treats. He ate this morning, had a piece of banana and lick of peanut butter. Then got a car ride with the window open (one of his favorite things). He was very much alert but had lost control of everything in his back end and couldn't use his other hind leg or control his urination and bowels. He went out with dignity. He was a great dog and we won't forget him.

Wow. It's been almost a year, and it's really hard to deal with this. Back to pets page